The Senior Class is filled with songs that call for more finesse and subtlety. From Ragtime to Classical to Brazilian, Jazz, Soul, Beatles and Big Band music, this class has it all! Once you finish this class, and the whole program, you will be prepared to play with anyone. You will be solo-performance ready, or able to play in a band with others. You will know what to do, and why. You will be ready for anything musically.

20 Lessons
20 New Songs!



5 Hours
Instruction Videos


20 Song Sheets
Included for download

20 Weeks
Course Duration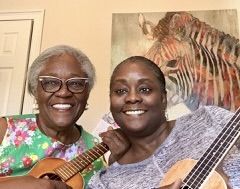 12th Street Rag
Starting the Senior Session with a bang! This high energy ragtime instrumental is both challenging and delightful to play. In the style of Scott Joplin, this is ukulele gold.

Michelle
One of the Beatles more tender tunes, "Michelle" was made for the ukulele. Complete with the evocative instrumental horn break, this is a wonderful piece.

Andante
A little Mozart? Classical music translates perfectly on our ukuleles. This lovely piece originally written for harpsicord sounds great on the uke.

Lucy In The Sky With Diamonds
It's time for a little psychedelic ukulele, don't you think? This Beatles tune from Sgt. Peppers is a blast to play. Written so two can play it together. Groovy baby!

Soul Man
Really? Oh yeah – This fantastic R&B tune from Sam and Dave sounds terrific on the uke. All the classic licks are included. You'll think you were from Philly when you get into this one.

Girl From Ipanema
We will enter the wonderful world of Brazilian Samba Music with "Girl From Ipanema." New rhythms, chords and changes. Great song.

50 Ways To Leave Your Lover
The memorable chorus of this Paul Simon song is straight forward, and the verses are clever, both lyrically and musically. Super on the uke!

When I'm 64
A smart arrangement makes this playful Beatles song challenging and satisfying to play. A real show piece when you get it down.

No Name Rag
This is a challenging rag that I have put together. To be honest, I have heard this somewhere, but can't find the name, so I've named it No Name Rag. This is an excellent instrumental that will challenge and delight.

Harvest Moon
This clever Neil Young tune is lovely on the ukulele. Trading chords up and down the neck makes this fun and full of essential information and technique.

Take Five
This Dave Brubeck jazz staple from the Bebop era translates to a delightfully challenging ukulele piece. Embracing both the piano and saxophone parts, this is an attention grabber, and a blast to play.

Here Comes The Sun
What needs to be said about this one? One of the most recognizable guitar riffs is now also a great ukulele riff. A masterpiece by George Harrison and The Beatles.

Chattanooga Choo Choo
A fabulous throwback to the days of "The Greatest Generation." Lots of sophisticated changes and barre chords on this unforgettable Glenn Miller song.

My Girl
Detroit's own Temptin' Temptations classic soul tune translates to a very appealing ukulele piece. Combining the iconic bass line with the chording is fun and challenging.

Both Sides Now
(Instrumental) – A lovely instrumental arrangement of an absolute masterpiece by Joni Mitchell. I love this one, and I'm confident you will, too.

America
Another new finger picking pattern for this gorgeous Simon & Garfunkel number. Exquisite lyrically and melodically.

Johnny B. Goode
Chuck Berry's most famous number, complete with note-for-note leads, make this one a "must play" for all advanced players.

Sympatique
Un peu de français? This lovely French ballad is sensational on the ukulele. Complete with French lyrics, it will raise your "cool factor" when you play it.

Summertime
George Gershwin meets Janis Joplin in this special arrangement of the immortal Porgy & Bess song. Great finger picking tune with beautiful instrumental break in the middle.

Danny Boy
Strumming and finger picking are interchangeable in this classic Irish ballad. A tasty way to conclude the String Along With Stu curriculum.
Created with